How to Build a Practice Wall in Pickleball?
Pickleball players can hone their skills by using a practice wall – an increasingly popular training aid. A practice wall is an effective way to develop strategies and refine techniques. Players can work on specific shots or build up their endurance by performing repetitive drills against the wall. 
Depending on their preferred playing style or budget, they can choose between different types of walls, such as those made from foam, plastic, or wood. Practice walls also allow pickleball players to practice alone without needing another person as an opponent. Additionally, they are relatively inexpensive compared to other equipment used in pickleball training.
How to Build a Practice Wall in Pickleball?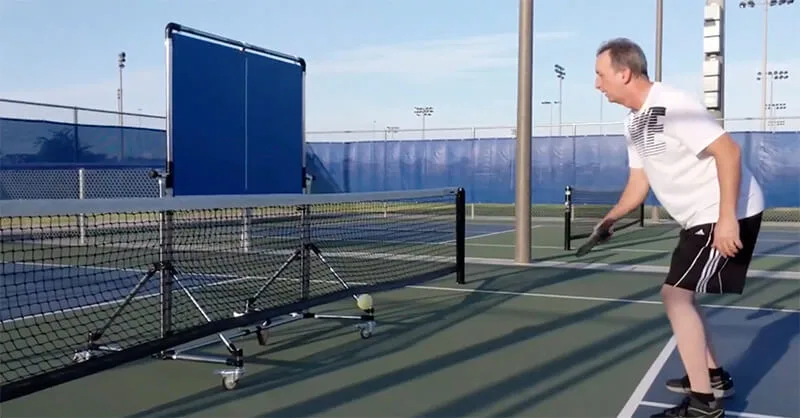 Building a practice wall for Pickleball can be an enjoyable project to do in order to brush up on one's skills. With the right supplies and knowledge, anyone can get their very own practice wall up and running in no time. Here is a step-by-step guide on how to build a pickleball practice wall from plywood sheets.
Join the sheets of plywood together
Gathering the materials needed for making the practice wall is essential. You'll need eight 4-by-8 foot sheets of 3/4 inch thick (or thicker) plywood, four 2″ x 6″ wood studs, two 2″ x2″ wood studs, and two 8-foot long 2″ x3. Next, cut each sheet into five sections that measure 32 inches by 48 inches each. Then you can begin joining them together with screws or nails.
Reinforce the outside edges of the screen
The next step is to reinforce the outside edges of the screen so it won't collapse when hit with powerful shots. You'll want to use either steel rods or rebar that are long enough to reach the top of the frame and securely attach them at each corner using screws or bolts. Make sure it is secured tightly in place before continuing with construction.
Reinforce the inside of the screen
Several essential steps need to be taken to build a lasting and reliable practice wall for Pickleball. You'll need to reinforce the inside of the screen to stand up against regular use without any damage occurring over time. This includes adding additional support beams along its sides and filling in any cracks or holes with mortar before laying down the netting.
Finishing the front of the screen
The most important part of finishing the front of the screen involves making sure that it's durable and able to withstand use over time. A good quality netting and a strong frame that can support its weight should be used for this purpose. Be sure to use weather-resistant materials too, so your practice wall will remain in good condition during all kinds of weather conditions.
Can I practice Pickleball against a wall?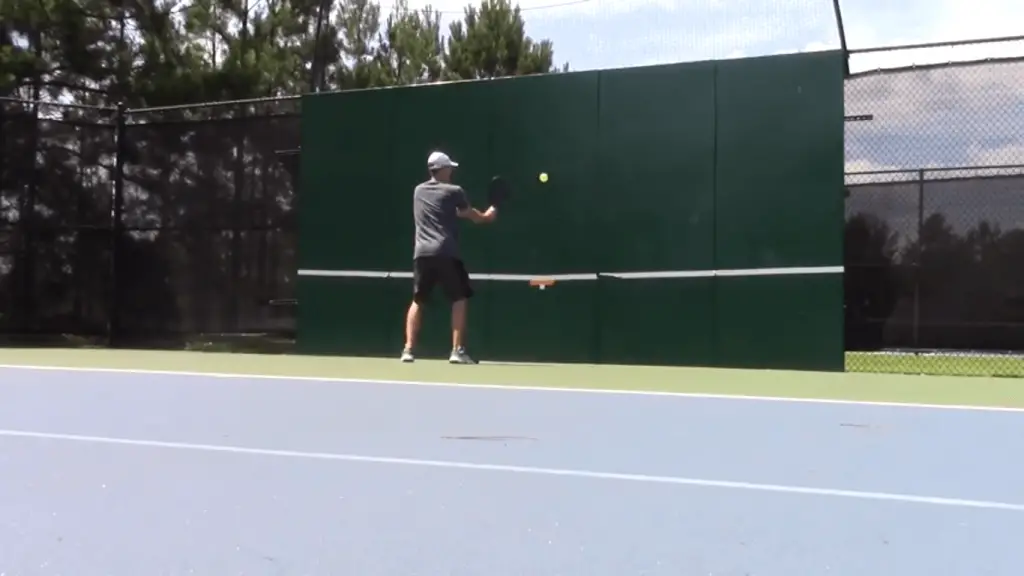 Hitting against a wall can be outstanding practice for pickleball players of all levels. The wall allows one to work on technique and strategy while still getting some much-needed exercise. Players can also use the wall to help improve their reaction time and accuracy, making them better when competing against others. 
If you're wondering if you can practice Pickleball against a wall, the answer is yes! Just make sure to choose a smooth surface that won't damage your paddles or balls. Using the walls during practice will allow you to focus on different aspects of your game without having another player around. 
Things to consider when making a pickleball practice wall
Making the right pickleball practice wall decisions can be challenging. Before you choose a wall for your practice, there are several essential things to consider, such as size, material, distance, and angle. 
Size of the wall
The size of the wall is an essential factor when deciding on a practice wall. Depending on your preference and skill level, you may opt for a full-sized regulation court or a smaller, more portable option. 
Material of the wall
The material used in the wall's construction will also affect how it performs during practice. More complex surfaces will generally reflect the ball with more power, while softer materials absorb some of that energy so that shots don't bounce back as quickly or intensely. 
Distance of the wall from you
Measure out how much space you have available in front of the wall. This will help ensure you don't accidentally choose a wall that is too far away for your needs. Additionally, it's important to remember that Pickleball requires at least 10 feet of clearance between players. So, there must be enough room between you and the wall so other players won't be in your way while practicing.
The angle of the wall
The angle of the wall is an essential factor that should be considered, as it can drastically improve your performance on the court. The right angle of the wall can help deflect shots better and provide you with more angles to practice different techniques. 
Frequently Asked Question
What is the best practice wall for Pickleball?
When space is limited, a 10-foot (3-m) wide wall can provide enough room for the game to be played safely and comfortably. The best practice walls for Pickleball should be made of a durable material that can handle weather and wear and tear from players. Additionally, it should have an excellent grip to prevent slipping or sliding during play.
What surfaces can you play Pickleball on?
The two most commonly used surfaces for playing Pickleball are clay and grass. Clay courts are generally made from crushed stone or brick dust mixed with water. This surface type is usually slow-paced and offers more spin than other surfaces. Players find that clay courts require more skill and strategy, making them ideal for experienced players. 
Grass courts, on the other hand, are typically made of a combination of sand and soil, making them more forgiving than clay courts and better suited to beginners. Grass courts allow players to hit the ball harder without worrying about it bouncing back too fast or having too much spin applied. 
How to Build a Practice Wall in Pickleball Conclusion
Building a practice wall in Pickleball is an excellent way to improve your game. With patience, dedication, and suitable materials, you can create a wall to help you become a better player.
Remember to choose a spot where you will get enough sun and wind exposure, and make sure to use durable materials that can withstand the elements. Take your time to build the wall correctly, and be sure to check for any unevenness along the way.